about
no more poetry respectfully acknowledges the Traditional Custodians of the land which their publications are planned, collated and printed, the Bunurong Boon Wurrung and Wurundjeri Woi Wurrung peoples of the Eastern Kulin Nation. We pay respects to their Elders past & present.
no more poetry

"sometimes we are hurried
others proud and standing
sometimes just enough to write
sometimes, which is the real poem, we do not write at all
we let nobody have it."

printing poems in so called Melbourne

bi-monthly poetry collections and sporatic ephemera.
nmp.01 daniel ward.

poems june 2016—october 2019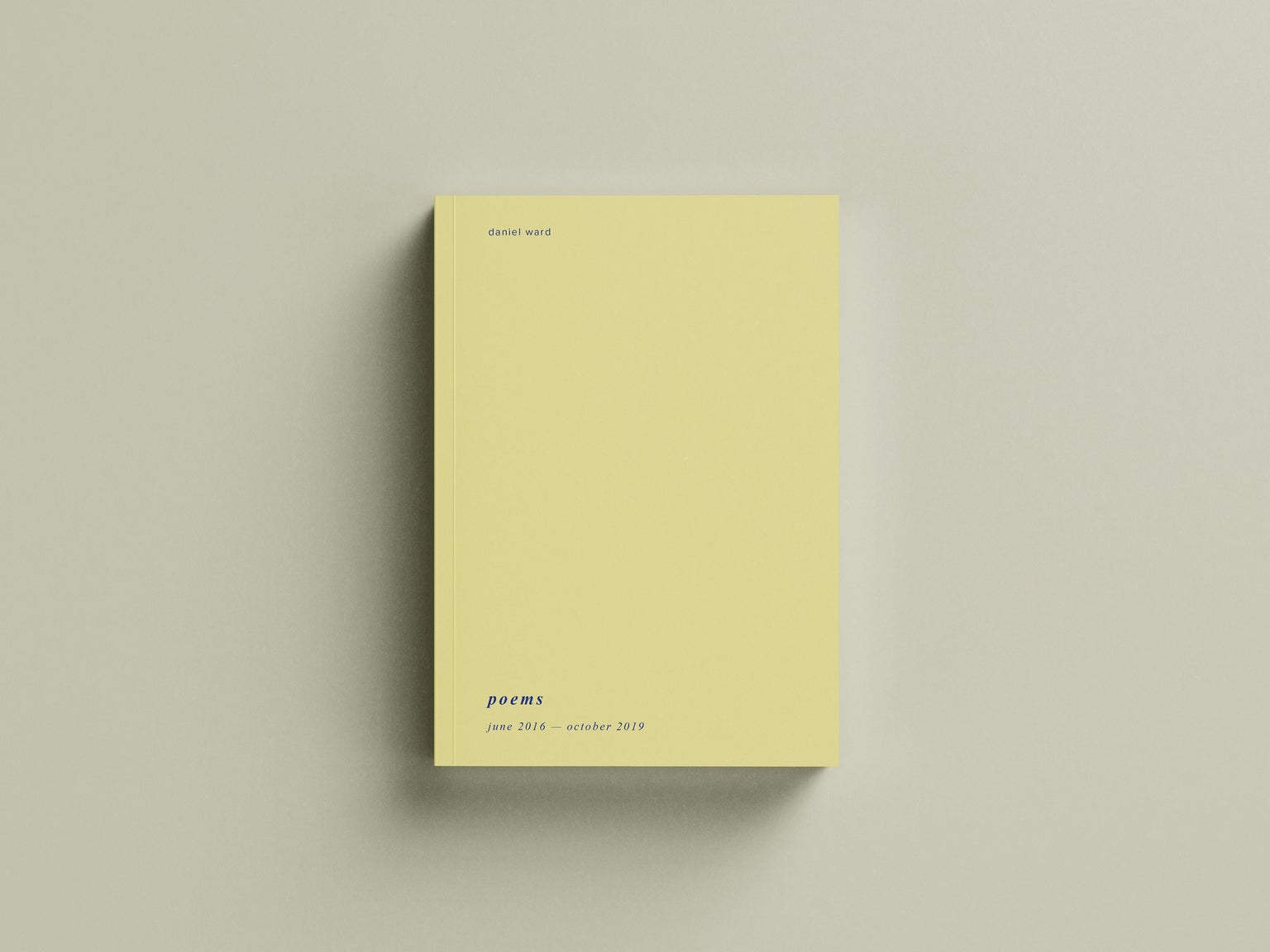 2020, english — softcover — 84 pages —

108 x 178 mm



Second edition, edition of 100
selected poems by daniel ward.

daniel ward is a poet and musician.
they live in melbourne.
SOLD OUT
danielwardpoems.blogspot.com
shipments po
sted weekly.
nmp.02 daniel ward & IchikawaEdward.

ie.—for the people we will be
2020, English — Screen printed softcover — 128 pages — 145 x 204 mm

First edition
Edition of 130 (numbered).

Screen printed covers, please note that each edition carries subtle variation due to the nature of fabrication.

Ainslie Templeton, Amrita Hepi & Samuel Lieblich, Arini Byng, Bridie Lunney, Carmen-Sibha Keiso, Chi Tran, Claire Lambe, daniel ward, Eugene Choi, Eugene Yiu Nam Cheung, Ichikawa Lee, Jacinta Keefe, Joshua Edward, Justine Youssef, Kat Capel, Kiri-Una Brito Meumann, Lil Palser Barto, Latifa Elmrini Gonzalez, Lou Hubbard, Manisha Anjali, Marcus Whale, Panda Wong, Sally Olds, Spencer Lai, Tyson Campbell.

"…ie.—for the people we will be is a concatenation of gestures as much as it is a gesture in itself. This book is an entry point into understanding the psychology of artists in a world that has sped through fragmentation and wholly embraced its disintegration. What you are reading is and was conceived in a time when people began wondering what art can do beyond s(t)imulating itself. It contains artists, writers and thinkers who are both subjects of and contributors to evil, and in their work we might find moments that allow us to swim amidst the melancholy and ecstasy and rage and truncation and hope (false or real), all of which contour the parameters of this particularly untidy moment in history. I have found, in writing this text, that our days to activate change are numbered — which is not so much an indictment on mortality but on the realisation that we must spend our energy more wisely. This book is not about death but it is certainly framed by it, and the revolution which is to come is one where systemic upheaval is — as Audre Lorde once said in The Uses of Anger (1981) — driven by 'anger, not moral authority. There is a difference.'

—Eugene Yiu Nam Cheung
Tomorrow is a Dream I Never Had

SOLD OUT


shipments posted weekly.
nmp.03 Chunxiao Qu

Popcorn, porn of poetry
2021, Mandarin & English — Softcover — 216 pages —
108 x 178 mm

First edition
Edition of 225 (numbered)

Selected poems by Chunxiao Qu.
Published by no more poetry

Chunxiao Qu is an artist and poet born in China. She currently lives and works in Melbourne. Her poetry is tender, hysterically funny and cunningly contemporary. The poet reminds us that writing is catharsis and rest is radical.

︎



@she_andherdog
shipments posted weekly.



nmp.04 Bridie Lunney

Sucking my Tongue to Keep the Salt of You Close.
2020, english — softcover — 120 pages — 108 x 178 mm
First edition, edition of 225

As a collection, Lunney's book Sucking my Tongue to Keep the Salt of You Close is tender and commanding, a generous documentation of time and desire. It recounts the melding of two beings into each other and the self into everything, slow and intoxicating.

Bridie Lunney is a poet and artist.
she lives in "Sydney".

SOLD OUT
Register your interest here



@bridie_lunney


shipments posted weekly.